2023 Spring-Summer Clinic
Skating and Resistance Training, and Shooting Skills
2023 Summer Camp Clinic
July 4-7; July 10-14; July 17-21; August 21-25; August 28-Sept 1
Skating and Resistance Training, and Shooting Skills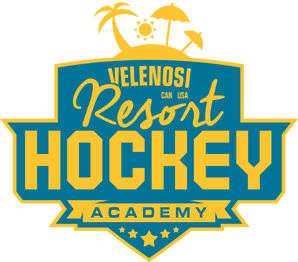 2023 Resort Hockey Academy
Bring your whole family and join us this summer for a unique hockey experience at Sherkston Shores. Must show proof of registration and payment for accomodation registration purposes. Keep up your hockey training while still enjoying summer camp, and bring the whole family. Stay in the RV park or rent one of many rustic cabins, cottages and lakefront premium cottages. Contact us for pricing or download the registration form and email it in.
Resort Hockey Academy
July 24th - July 28th
July 31st - August 4th
August 14th - August 18th
5 day program (Wednesday Family Beach Day)

HMHIP | Hamilton Minor Hockey Initiation Program
The Hamilton Minor Hockey Initiation Program was formed for the 2012-2013 season partnering with Velenosi Hockey. The philosophy behind the program is to provide universal skating instruction for all new children to hockey between the age of 3 and 7, with three levels of Hockey School from non-skaters to beginner skaters and those with basic skating skills (Pre-Novice) and to teach the basics of hockey. Going for the 2016-2017 season. This sold out program each year has proved successful. All classes are held twice a week at the Mohawk 4 Ice Centre (Quad Pad). Registration will be held in March and September. Please check our website for updates and registration information.